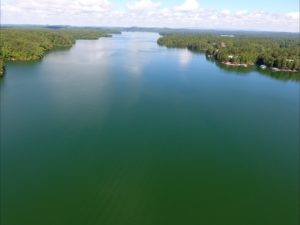 It's been great seeing more activity at the lake with folks getting ready for the summer! Everyone is eagerly getting everything in order so that they can begin to enjoy their summer on Lake Wedowee! The lake level is currently at 789'6″ and continuing to rise. Hopefully we will be at full summer pool on schedule.
Ansley Granato, one of our granddaughters, is graduating from High School next month and will be attending the University of Alabama.  Roll Tide!!  We are very proud of her and know she will do very well.  She is following in her Aunt's footsteps. What do you think "Bama Fans"?
Meadowcraft is having one of their big sales on Saturday, April 28th, from 7:00am – 12:00pm CDT. They will have coolers, tumblers, paddle boards, stone top tables, deep seating outdoor furniture along with other items that are perfect for lake life living! This is always a great sale so plan to get there early! It will be at the Meadowcraft Outlet Center located at 344 Main Street in Wadley.
Wedowee Marine South will begin serving food and spirits on April 28th! We'd like to welcome Bonnie Wilkerson who will be in charge of the bar which will be located upstairs with the restaurant located downstairs. Let's all help support their business!
The Master Gardeners Club will be having a plant sale on April 28th from 8:00am – 12:00pm CDT at the Kiwanis Park just south of Wedowee on Highway 431. Stop by and check out their selection. It's the perfect time to spruce up your flower gardens!
The Dixieland Chapter of the Antique & Classic Boat Society will be hosting an antique boat show in Gadsden, AL from May 3rd through May 5th. It will run in conjunction with Gadsden's 1st Friday Car Show! The boat show will be located at the Broadstreet Ramp and Piers which is at the end of Broad Street on the west side of the Coosa River at 200 Lake St., Gadsden, AL. There will be a shuttle bus running every 30 minutes between the boat show and the car show. This should be a great event for not only the antique boat enthusiast or the car enthusiast, but for everyone!
You can "Meet the Candidates" at Rock Stand Community Club tonight, April 19th, from 5:45pm to 8:30pm. David Cofield and Donnie Grant (candidates for sheriff of Randolph County) along with Amy Newsome and Melody Baldwin (candidates for Circuit Court Judge) will be attending. It's a great opportunity to get to know each of the candidates! The Rock Stand Community Club is located on CR 65 behind the fire department.
Mark your calendars for the "Kids Fishing Day" hosted by the Lake Wedowee Property Owners' Association on May 22! This is always a great event for the kids. It's a fun afternoon of fishing, outdoor activities, games, prizes and food! We will have more information to follow! You can follow what is happening with the LWPOA at their webiste, www.lakewedoweepoa.com.
We take pride in knowing our market and educating our customers on our market. Please keep us in mind when you think about Lake Wedowee! Hope to see you on The Lake real soon!  —Gene